« Back to main Programme
How to emerge stronger and more resilient from the COVID-19 crisis?
Walid Negm
Group Chief Innovation Officer, Altran (part of CapGemini)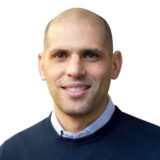 When we look at the economy, the impact of Covid-19 is not evenly distributed. The aerospace sector is facing a long-haul recovery and auto sales are down significantly from 2019. At the same time, technology, life sciences and "stay-at-home" companies have done well.  However, there is a common denominator: volatility in demand over the next 12-18 months.  When it comes to high performing companies, they never waste a crisis—instead, in uncertain times they are ambidextrous. First, they are difference makers during the turmoil, persistently tackling short-term priorities and second, they are intensely focused on a portfolio shift to new industry growth vectors.
About Walid Negm
As Chief Innovation Officer for the Altran Group, Walid Negm is responsible for technology strategy and innovation. He also serves on the Group's Executive Committee on Technology & Innovation. Walid brings 25 years of experience, most recently as Global Lead for Industrial Internet of Things R&D at Accenture. He was a cofounder and responsible for product development at cybersecurity and mobile infrastructure startups. He holds bachelor's and master's degrees in Computer Engineering from Boston University and an MBA from The McDonough School of Business at Georgetown University.